The solution for ingrown hairs.
This is an individual problem and generally only occurs in certain areas. Our PeelSilk glove is an effective aid in the prevention of this problem. A 100% natural product for protecting against ingrown hairs and for the daily skincare regime.
This product has proven its effectiveness over centuries of use and is new to Switzerland. The special exfoliating glove is highly effective against ingrown hairs. Access to the living outer skin is only possible after effective exfoliation. Exfoliating is therefore advisable before using essential oils and creams. Otherwise, you would only be treating the dead skin cells, which are completely renewed every four weeks. The PeelSilk glove offers effective exfoliation that is visible to the eye. When used in the shower or bath, it lasts for about one year. When used correctly, it is simply unbeatable.
The glove comes in different variants for CHF 24.90.- each.
Standard, made from birch viscose, for the whole body
Soft, made from pure silk, for use on the face and for children
Coarse, made from birch viscose, for very hairy skin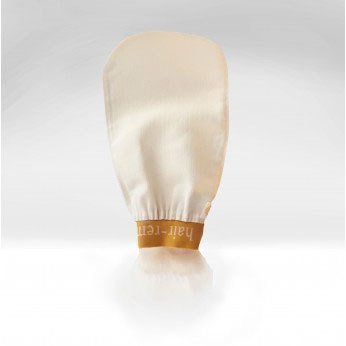 Book our service around hair removal to cosmetics and let our competent staff convince you. On the following page you will find our entire pampering offer. Choose your preferred date